Solway Harvester wreck described as 'upsetting sight'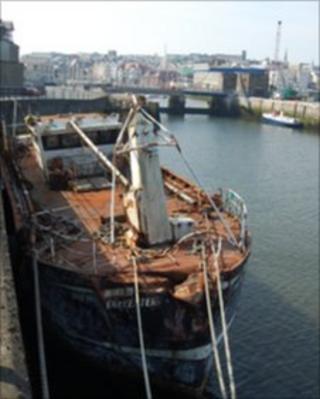 The continued presence of the Solway Harvester in Douglas Harbour has been described as an "upsetting sight" amid questions about its removal.
But the Infrastructure Minister said the Manx government has an obligation to the families of the deceased crew.
In the June sitting of Tynwald Phil Gawne confirmed the vessel will stay until all legal and civil action against the former owner is over.
Mr Gawne said: "I know it is an upsetting sight for many people."
He added: "However I do believe we are doing the right thing by the families".
Seven men from Scotland died when the scallop dredger sank, 11 miles off the Manx coast in January 2000.
The vessel has remained in Manx waters ever since.
When asked by MHK Peter Karran to reveal how much the public purse contributes to vessel costs, Mr Gawne did not give any figures.
He said: "The costs certainly are there - they aren't significant in the overall scheme of things.
"We have looked at other alternatives such as relocating the vessel to other ship yards for example, but the costs of that would be considerably higher.
"We thought perhaps we could ship the vessel to a quiet port tucked away somewhere in the UK or Ireland but because the vessel is no longer sea worthy, it is highly unlikely that a port would accept it, and in any case, we would then have to pay for the vessel to be there".
Mr Gawne added that he felt it would be inappropriate at this time to put pressure on the families to find out when the legal and civil action would be completed.
Mrs Murphy who lost her 22-year-old son John in the incident said at this stage she still has no idea when the court proceedings will end.
She added: "I understand how people must feel about the boat being in their harbour, it's an eye-sore, but our case hasn't gone to court yet, I have no idea when it will get started".
In 2005, the boat's owner, Richard Gidney was acquitted of manslaughter charges after a judge ruled there was no case to answer.