Island tribute to 'outstanding' Tynwald president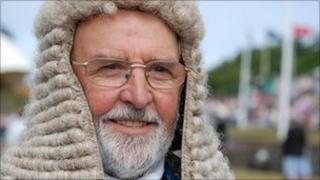 Isle of Man politicians have paid tribute to "an outstanding" president on his final day of duty in Tynwald.
Noel Cringle recently confirmed his intentions to stand down after 11 years as the figurehead of parliament.
In the July sitting of Tynwald (Tynwald Day) members of the house of keys will elect another president.
Speaker of the House of Keys, Steve Rodan said Mr Cringle had over the years shown himself to be an outstanding and dignified Manx man.
He added: "It is the passing of a political era. We will miss your presence in this court and that characteristic twinkle in your eye".
Mr Cringle, who was educated at Castle Rushen High School, was first elected a Member of the House of Keys in 1974.
He was appointed Officer of the Order of the British Empire (OBE) in the 2008 New Year Honours.