Manx conservation zone could 'help' fishing industry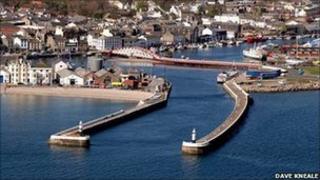 A new marine conservation zone in the north of the Isle of Man could benefit the fishing industry, the Manx fish producers organisation (MFPO) has said.
After a year-long public consultation the government has brought in a zoning programme to protect about 3% of Manx territorial waters.
A 40 sq km (15.44 sq miles) area including Ramsey Bay is to be closed to scallop and queenie trawling.
The measure is intended to help replenish fish stocks.
Tom Bryan-Brown, from MFPO, said: "It is for the greater good of the industry."
He added: "There are certain pieces of ground which I think are of more interest and importance to environmentalists than they are to the fishing industry, but there is always that associated benefit that you hope to get from it, where there will be an extra supply of stock in the area to help out the scalloping industry".
Marine reserve
The MFPO initially suggested the area as a possible protection zone and the idea was supported by the Manx government.
Marine Officer, Fiona Gell said: "The build up of animals which happens naturally in a protected conservation area can have a positive affect on fishing.
"There are no walls around a marine reserve and the plankton will move out into other areas and enrich the sea around the island."
Divers will be checking the area regularly to monitor how the new rules are affecting the Manx marine eco system.