Sarah's Law protesters gather outside Tynwald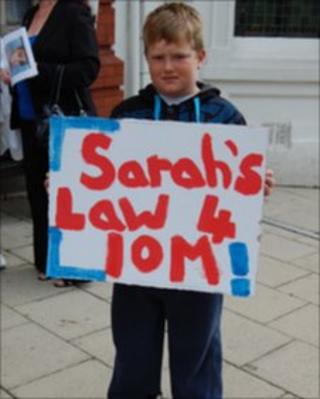 Protesters hoping to persuade the Isle of Man government to introduce Sarah's Law have gathered outside Tynwald.
The group presented a petition to Home Affairs Minister Adrian Earnshaw with more than 4,000 signatures of support.
The Child Sex Offender Disclosure Scheme in England allows parents to ask police if someone who has contact with their child is a sex offender.
MHK Bill Henderson said: "We are showing the minister the depth of community feeling on this issue."
He added: "These girls have really demonstrated the strength of feeling across the community by way of a four-and-half-thousand signature petition which is excellent for a small island, we are hoping to build on that and build pressure on the government."
Previously the Isle of Man government expressed concern about the scheme, believing it could force sex offenders to go underground.
At the time Mr Earnshaw said: "Offenders who have been either rightly or wrongly labelled as sex offenders and upon whom inquiries have been made will retain that label wherever they live in the island and cannot be easily moved within our small community."
The Manx government said the situation would be reviewed in 2013.