MHK pensions 'difficult to justify' says union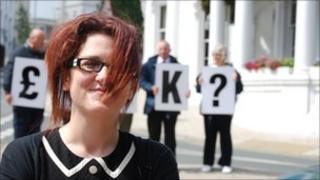 MHK pensions are "difficult to justify", the president of the Isle of Man Trade Union Council (TUC) has said.
Angela Moffatt said the issue was having a negative impact on the credibility of Manx politicians.
In the UK, MPs have a funded final salary scheme and pay a fixed pension contribution whereas Isle of Man politicians do not contribute.
Miss Moffatt said: "This is really difficult to justify in the current climate to anybody."
She added: "The people who are sending out messages about the need to be frugal and tighten belts, have got to lead by example.
"We are getting preached at by a bunch of people whose own financial position is eroding very little, in relation to the rest of the population".
MHK Martyn Quayle said: "I would agree we should lead by example and it is publicly on record that I fully support the idea that members of Tynwald contribute to their pension scheme.
"The reason our pension scheme wasn't linked in the civil service pension changes is because ours is under a different scheme entirely."
Tynwald is currently reviewing whether or not to introduce a contributory pension scheme for island politicians.