Call for banks to help Manx housing problem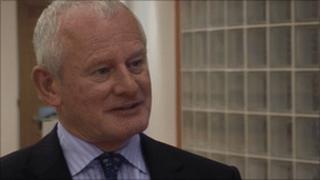 The Isle of Man's economic development minister has called for the banking industry to help first time buyers get onto the island's property ladder.
Allan Bell wants to encourage the private sector to look carefully at their local lending policies.
He believes high rentals coupled with a lack of housing is causing hardship in many areas of the Isle of Man.
Mr Bell said: "Public finances are going to be restricted but banks have a responsibility to contribute."
He added: "We now need to look again at trying to engage the banks, who sadly are largely dictated to by their UK head offices, in terms of lending policy.
Double the average
"Government cannot do this on its own- I am a passionate believer in public-private sector partnership in a small economy like the Isle of Man" he continued.
The average house price on the Isle of Man is over £270,000, nearly double the average in the North West of England, and beyond the reach of many first-time buyers.
To help combat the problem, Tynwald has approved an extra £2.8m to fund the House Purchase Assistance Scheme, which involves building affordable housing and offering grants and loans to first- time buyers.
But Allan Bell believes with average Manx rentals at about £1,000 a month, more needs to be done to avert a crisis.
"We have also got to look at the wider market, including private rentals which need assistance- we don't give them any help at all at the moment".