New Isle of Man buses to boost public transport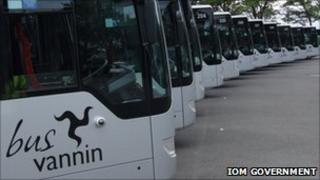 A fleet of 12 new Mercedes buses will encourage Isle of Man residents to use public transport, the government hopes.
The single-decker vehicles will be integrated into scheduled bus services around the island.
The government would not reveal the cost of the fleet but said funding came from a £1.2m budget for new vehicles.
Community, Culture and Leisure Minister David Cretney said: "We want to encourage more people to use the bus services."
He added: "A significant part of that is to have buses which are environmentally friendly but also provide a good level of comfort.
"I know these are difficult economic times but these buses are an essential investment.
"These are good quality vehicles, there is no question of that and why not? Why should we not have good quality vehicles?"
Earlier this year it was revealed in Tynwald that timetables were being affected by buses which could not be used in the rain due to leaks.
Mr Cretney said the problem was making journeys uncomfortable for passengers and causing faulty electrics.