Manx parliament sends condolence message to Norway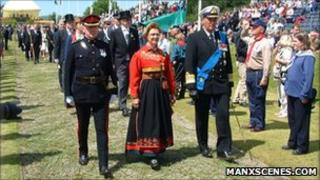 The Isle of Man has sent messages of condolences to Norway in the wake of the mass killings on 22 July.
The president of Tynwald has written to the President of the Norwegian Parliament, Mr Dag Terje Andersen.
Clare Christian said the island was shocked by the recent news.
She added: "On behalf of Tynwald and the Manx people I wish to convey our concern for your country and extend our condolences to all who have suffered loss in this tragic episode".
The King and Queen of Norway last visited the island in 2002.
A minute's silence was held in Norway on 25 July to remember the people killed in the bomb blast and shootings last week.
In addition, the island's Chief Minister has written to the Norweigian Prime Minister, Jens Stoltenberg, to add his sympathy.
In his letter, Tony Brown said: "As a nation with historical ties with your country the Isle of Man and its people has a close affiliation with your country and people, and we feel very much your pain at this very difficult time for your country".