Isle of Man wildlife team spot rare Risso's dolphins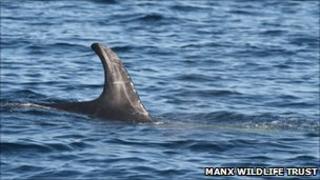 A team of marine experts has recorded a rare sighting of a group of Risso's dolphins off the Isle of Man coast.
The group also spotted seven minke whales and about 30 common dolphins.
The Manx Wildlife Trust (MWT) expedition, including basking shark and whale experts, took place on 27 July.
MWT Marine Officer Eleanor Stone said: "Our waters support a huge variety of marine animals and some of the most charismatic ones put on a great display for our survey teams".
Shark disappointment
The Risso's dolphins were sighted off the island's west coast.
The number of Risso's dolphins spotted near the Isle of Man has been steadily decreasing in recent years.
The number of sightings last year was a third down on 2009, with just 20 compared to 60 in previous years.
Conservationists have been recording the number of sightings to better understand their habits and behaviour.
Ms Stone added: "The only slight disappointment was the lack of basking shark sightings.
"They have been few and far between over the last couple of months because there has been no big build-up of plankton near the surface of the water, which is why we think there are no sharks at the surface either".