Isle of Man Bay festival ticket refunds delayed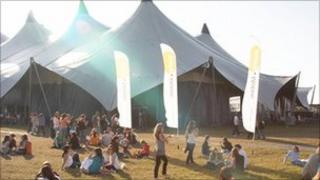 The organiser of the Isle of Man Bay festival has announced a delay in providing ticket refunds.
Jonathon Irving cites difficulties in asset disposal as the reason.
The festival was due to be held in Douglas from 17 to 19 June, at a cost of £1.5m, but was cancelled in May due to poor ticket sales.
Mr Irving said: "As asset disposals have proved difficult in the current economic climate, we have been working hard to finalise arrangements."
He added: "We hope to be able to announce details to ticket holders very soon".
The line-up for the festival included rapper Tinie Tempah and pop group Westlife.
'Frustration'
"Certainly the decision to cancel was not taken lightly but we could not see a viable future in any format that retained the spirit of a popular cultural festival," said Mr Irving.
A spokesman from the Isle of Man Office of Fair Trading said: "Despite repeated requests Isle of Man Bay Festival Limited has failed to provide the requested information and the Office is disappointed to note the statement issued to the media today by the company.
"The Office recognises that the company's failure to comply with its previous statement that refunds would be made by 29th July will only add to the frustration and concerns of consumers".
The organisation has been in contact with music store HMV, the ticket agent for the event.
HMV said: "HMV Tickets remain in active and positive discussions with the promoter of the cancelled Isle of Man Bay festival, Isle of Man Bay Festival Limited, in order to bring this matter to a satisfactory and timely resolution.
"As these discussions are at an advanced stage, we feel that it will be helpful and in the interests of all parties to await their outcome before processing refunds".
A spokesman for the store said final arrangements for refund payment of refunds will be made by 31 August.