Youth games bowl a 'legacy' for Isle of Man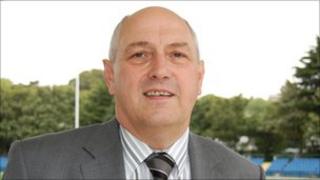 The newly refurbished Bowl stadium in Douglas is a "legacy" for Manx children, according to the director of community, culture and leisure.
Mike Ball said the work, which has been completed ahead of the Commonwealth Youth Games in September, will benefit the island for years to come.
The redevelopment was approved by Tynwald at a cost of about £3.3m.
Mr Ball added: "This legacy is an investment in our community and will be used for local sports development".
The facility at the National Sports Centre will be used as the venue for the opening ceremony at the Commonwealth Youth Games on 8 September.
Festival of sport
More than 1,000 competitors, from 71 Commonwealth nations, will travel to the island to compete in the seven-day sporting festival.
The inaugural Commonwealth Youth Games were held in Edinburgh in 2000, followed by Bendigo, Australia, four years later and Pune, India, in 2008.
The Isle of Man is set to host the 2011 games before it reverts back to a four year cycle in Apia, Samoa, in 2015.
Community Culture and Leisure Minister David Cretney said: "I am confident the Isle of Man will be ready for the youth games later this year.
"Other events will take place in the athletics stadium next door, the swimming pool at the National Sports Centre and boxing will take place at the Royal Hall in the Villa Marina.
"One of the best things about holding the games in the Isle of Man is that everything can take place in a relatively small area".