Isle of Man student debate praised as 'accomplished'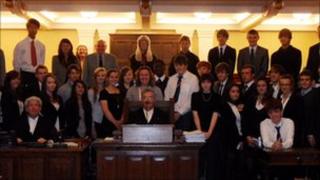 A group of students from the Isle of Man have been praised by the speaker of the house of keys for their "accomplished" debating skills.
Clare Christian praised the students taking part in Junior Tynwald for their teamwork and insight.
The annual event is held by the Commonwealth Parliamentary Association.
Mrs Christian said: "The students are to be commended for grasping the complexity of parliamentary procedures so swiftly".
The question time, which took place in the Tynwald chamber, raised issues such as the value of the TT to the Isle of Man economy and civil partnership education in schools.
The group of year 12 students were chosen from each of the island's five state secondary schools.
Ballakermeen High School student, Rory O'Shea, said: 'It was a very interesting experience and it certainly makes you want to use your right to vote".