Isle of Man summer music festival gets under way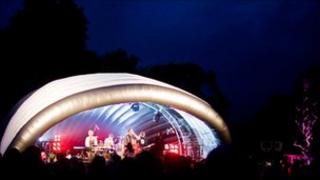 The Isle of Man's third open-air Mannifest summer music festival gets under way later.
The event, which is staged at Glen Lough camp site, will take place over three days and is expected to attract thousands of fans.
Described as a "home grown" event, Mannifest aims to bring people together for a weekend of live music.
Among the acts due to perform are Frank Turner and Dizraeli and the Small Gods.
Road restrictions will be in place throughout the weekend preventing motorists from stopping or parking near Glen Loch.
The stretch of road from Union Mills to Glen Vine on the main A1 from Douglas to Peel has been lined with police cones ahead of the festival.
Police said a temporary 30mph speed limit comes in to force in the area on Friday.
Inspector Will Campbell said: "The organisers of Mannifest have a strict no drugs policy which we will be enforcing with drug detection dogs.
"The organisers have worked tirelessly to make the event family friendly - last year was a great success in terms of the behaviour of the festival goers with no arrests having to be made".