Allan Bell 'would consider' chief minister role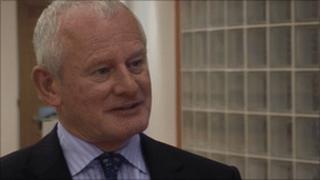 MHK Allan Bell has confirmed he "would consider" accepting the role of chief minister if there was enough support in Tynwald after the general elections.
The economic development minister came top in an island-wide survey on who should be elected earlier this month.
The research was conducted by Professor Hugh Davidson with the aim of giving Manx people a say in island politics.
Mr Bell said: "If there was support in the next House of Keys, I would certainly consider the role, yes."
He added: "Obviously it is my first ambition to be re-elected in Ramsey but I think the next government is going to need all the experience it can get to try and steer us through this difficult time".
People power
The "Manx People Power" survey interviewed more than 1,000 people, 15% of whom voted for Mr Bell.
Speaker Steve Rodan came second with 12%, while Treasury Minister Anne Craine came in third with 11%.
The Isle of Man's new chief minister will be elected by Tynwald in October, after the general elections.
Tony Brown, who currently holds the position, previously announced he would not stand for election in September.