Ferry company inquiry is dropped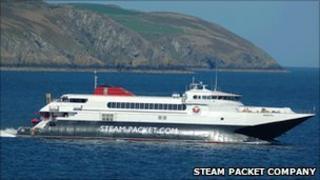 The Isle of Man Steam Packet Company has said it is looking to the future after an investigation into the company's freight charges was dropped.
The Office of Fair Trading said it would no longer publish a report on its findings as the results were no longer relevant after the change in ownership.
Chief executive Mark Woodward said he was pleased the long-running investigation was now closed.
He said he wants to provide a good service "without further diversions".
The investigation began after a review by the Tynwald Select Committee in 2007.
It report judged the ferry fares to be "very competitive" but was unable to comment on the freight prices so referred it to the OFT.
'Protracted investigation'
However the watchdog said that after a recent price war with ferry company Merezon and a change of ownership it would not be publishing a report.
Mr Woodward welcomed the decision: "In recent years, the Steam Packet Company has experienced a number of protracted investigations into its affairs.
"These have absorbed considerable amounts of the company's resources and diverted attention from the company's principal objectives of providing a reliable and cost-effective service to Manx residents and visitors.
"The company hopes that it can now concentrate its efforts on that task without further diversions."