Isle of Man live animal exports 'inhumane'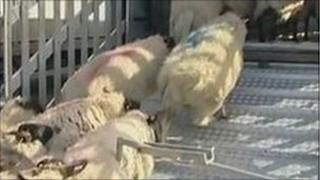 Live animal exports from the Isle of Man is "inhumane" and should be banned, say campaigners.
The online campaign, set up by a Manx group and backed by Friends of the Earth, has got about 1,000 signatures.
Exporting farmers say slaughter charges are too high on the island.
But campaigner Alison Corlett said: "The export of live animals for slaughter is inhumane and wholly unacceptable when we have a modern and efficient abattoir on the Isle of Man."
She added: "If we are unable to rear farm animals and kill them in the most humane manner we should not be doing it at all".
'Uneconomical' abattoir
But Manx farmer Joe Taggart said, although he would prefer to use the local abattoir, he finds it uneconomical.
"I'd sooner kill the animals at home but until we get a proper price structure in the Isle of Man I won't be killing them here.
"Everything is dearer over here, pharmaceuticals, fuel and fertilizer. We can't absorb the extra costs at the abattoir too, that would be too much for us to bear.
"For example I could get around £1,500 in the UK for a young bull but on the island I would get about £600 so you can be looking at around £900 difference on just one beast".
The Isle of Man meat plant, which is subsidised by the IOM government, has shed about 20 jobs during the past year with the aim of becoming more streamlined and eventually, independent.
Managing director Charles Kewin Kerruish said: "We are doing everything we can to maximise returns for everybody involved in this industry and our price lists are based upon published figures.
"Cattle prices are based on a four-week rolling average and lamb prices are based on a one week average. In other words, we base prices on what the market is paying".
The campaign group said its research had found that the numbers of animals being exported from the island was increasing every year.
It said exports of sheep from the island had risen from 3,542 in 2006 to 5,536 in 2010 and the export of lambs has gone up from zero in 2006 to 3,871 in 2010.
Although the animals are checked by the vet prior to the journey to the UK, the group adds that no checks are given on arrival.