Road safety campaign launched ahead of Grand Prix races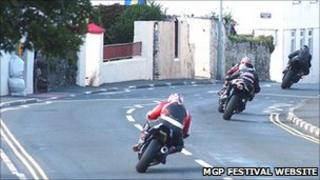 A campaign to promote road safety during the 2011 Isle of Man Grand Prix racing festival has been launched.
It features a series of crash scene images from police archives, with the strap line Stay Alert Stay Alive.
The government hopes the hard-hitting pictures will leave a lasting impression on residents and visitors.
Infrastructure Minister Phil Gawne said: "Enjoy the Grand Prix but make sure that you stay safe on the roads and don't drink and ride".
The Steam Packet company said motorcycle bookings for this year's festival were currently showing a 12% increase on last year.
Head of the Roads Policing Unit Inspector Terry Stephen said: "We are expecting an increased attendance at this year's Manx Grand Prix.
"I would, as always, remind everyone that the Snaefell Mountain Road remains two-way throughout the fortnight and advise people not to travel over the mountain against the course unless they absolutely have to".
Racing for the MGP takes place on the Mountain circuit at various times between 20 August and 4 September.
Roads are scheduled to be closed on 29, 31 August and 2 September.