Isle of Man health department warns about 999 over-use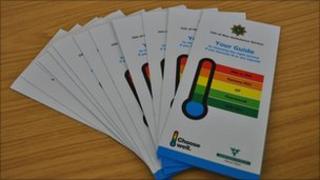 The Isle of Man Department of Health is warning about the dangers in over-using the emergency 999 number.
Officials are stressing the need to consider alternative medical services before calling for an ambulance.
A campaign has been launched after a 6% increase in the volume of Isle of Man 999 calls over one year.
Health Minister David Anderson said it was important for the public to understand when it is appropriate to call 999.
He said: "Our ambulance service exists to deal with medical emergencies, for situations where a speedy response by highly trained medical professionals can mean the difference between life and death.
"Every inappropriate 999 call can result in an ambulance and a paramedic being tied up delivering non-emergency care at a time when a call comes in for a real life-threatening emergency, where the ambulance and paramedic's intervention would make all the difference."
Other services available to island residents include the accident and emergency department at Noble's Hospital, the minor injuries unit at Ramsey and District Cottage Hospital, the Manx Emergency Doctor Service (MEDS), GP surgeries and local pharmacies.
Chief ambulance officer Steve Sieling said: "We do not want to deter anyone from telephoning 999 in an emergency where an ambulance resource will be despatched without delay, but we are finding that more and more people are contacting us for minor injuries or ailments that could be dealt with by self-care or which would be more appropriately dealt with by other areas of the health service."