Hope for direct flights from Isle of Man to Europe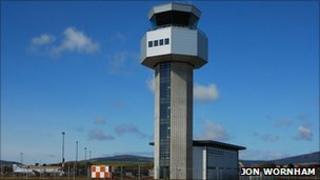 The future of direct flights from the Isle of Man to Europe is positive, after a "magnificent" response, according to the government.
Infrastructure Minister Phil Gawne confirmed the take-up of direct flights had boosted airport business.
Airport statistics show during summer, 1,300 people flew directly to the Mediterranean on nine charters.
Mr Gawne said: "Manx residents have responded magnificently to support this initiative."
He added: "We are now looking towards the 2012 season with some confidence to be able to repeat, and perhaps improve upon this great programme for 2011."
'Better than expected'
The government said the overall number of people travelling to and from the Isle of Man was beginning to recover after a decline in numbers during 2010.
Airport director Anne Reynolds said the economic downturn coupled with adverse weather in 2010 had had a "massive effect" on business but the latest figures showed numbers were picking up.
She added: "The matching of July 2010 last month follows a better than expected June, giving us some hope that passenger traffic is just beginning to show signs of recovery."
In total, 63,520 passengers passed through Ronaldsway in July 2011, almost matching those of the same period last year.