Rider Neil Kent killed in Manx Grand Prix qualifying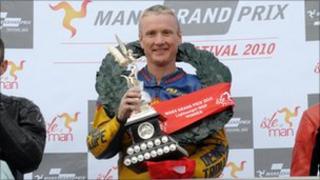 A 48-year-old man from Lincolnshire has been killed during qualifying races at the Manx Grand Prix.
Neil Kent died after a crash at Greeba Bridge while racing on a 250cc Yamaha in the junior session.
Race organisers said he was an experienced competitor who had been racing in the event since 1986.
Bill Bennett, chairman of the Manx Mortorcycle Club, said Mr Kent, who won the lightweight race in last year's Grand Prix, would be sorely missed.
He added: "Neil was a hugely popular competitor at the Manx Grand Prix and his victory after almost 25 years of racing in the meeting was well deserved.
"He was also a hugely appropriate choice for last year's John Goodall Spirit of the Manx award."
The coroner and Mr Kent's next of kin have been informed.