Commonwealth Youth Games: Doctor praises cadets' help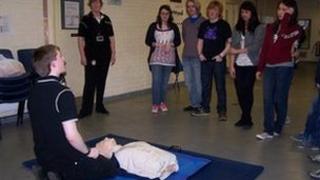 The chief medical officer for the Isle of Man's Commonwealth Youth Games has praised the involvement of Manx cadets in September's event.
Frank Vaughan said the cadets will work alongside experienced St John Ambulance volunteers to deliver first-aid throughout the week-long event.
Dr Vaughan said: "It is great to see such dedicated young volunteers, they epitomise our friendly games ethos."
The opening ceremony will be held on 8 August at the Bowl in Douglas.
All the cadets are volunteers and have progressed though a number of first aid courses, ranging from a basic induction up to a first aid at work qualification.
'Community and friendship'
Dr Vaughan said: "The younger generation receive so much negative publicity, but 99% of them are out there doing amazing things.
"The Isle of Man's Commonwealth Youth Games are about community and friendship and it's fantastic to have such dedicated young volunteers."
Sixteen Manx cadets, between the ages of 13 and 17 years old, will work with experienced members from the St John Ambulance during the games.
St John Ambulance's Voirrey Matthews said providing cover for seven sports, taking place simultaneously at 12 venues, across the island, will be one of their biggest commitments in 2011.
More than 1,000 athletes from 67 nations will compete at September's Games.