Mark Cavendish's green jersey on display at Manx Museum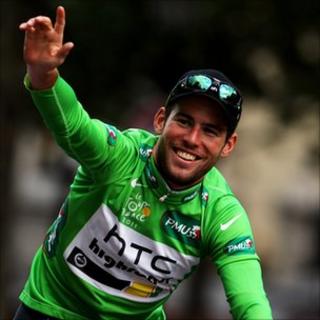 The green jersey in which Mark Cavendish won the final stage of the 2011 Tour de France is to go on display at the Manx Museum in Douglas.
The Isle of Man cyclist became Britain's first winner of the jersey, with five stage wins at this year's event, including victory in Paris.
Curator of the Manx Sporting Life Exhibition, Katie King, said: "It is an amazing piece of sporting history."
The exhibition will open to the public on 3 September.
'Sweat and champagne'
Ms King said: "We received the package from Mark (Cavendish) on Monday and we were all very excited.
"We carefully unwrapped it to uncover the green jersey, it's the one he wore when he crossed the line on the Champs-Elysees and it still smells of sweat and champagne.
"It is a very special item for our exhibition."
Cavendish has won 20 Tour de France stages in his career, making him the sixth most successful rider in the event's history.
The 26-year-old has also handed over a pair of green shoes, green sunglasses, the bike on which he won his first stage of the Tour de France in 2008 and his gold medal from the Commonwealth Games in 2006.
The exhibition aims to celebrate the achievements of modern Manx sports stars, while also revealing historic sporting heroes from the island's past.