Commonwealth Youth Games: Holmes praises Manx pupils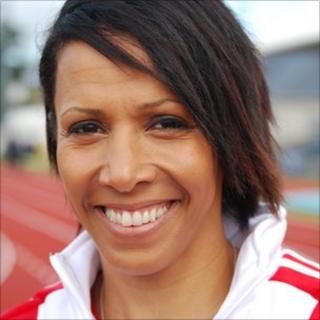 Dame Kelly Holmes has praised Manx school pupils for making an effort to learn more about the competing nations at the Commonwealth Youth Games.
The project saw each of the island's 35 primary schools adopt a Commonwealth nation and learn about their culture as the Isle of Man hosts the event.
Ramsey's Audlyn Primary School won the competition and met up with their adopted nation of Kenya on Friday.
Holmes said the children did "really well".
"They have clearly applied themselves to the project and been really focused in what they've done, which is the same discipline needed in athletics success," she added.
The pupils were presented with a shield by the double Olympic gold medallist.
Three years ago, the Isle of Man's 35 primary schools were each given one of the Commonwealth nations to adopt.
'Heart and soul'
In the first year, the schools were asked to produce a DVD to send to their nation telling them all about the Isle of Man, their school and their community.
The second year saw them produce a DVD about their adopted country and in the final year, the schools were tasked with producing a display, within their own school building.
Audlyn headmistress, Chrissie Callaghan said: "The children really put their heart and soul into the project."