Isle of Man breast cancer surgeon appointed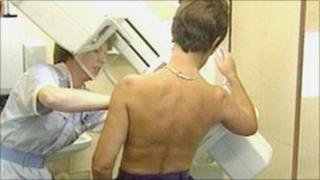 A new surgeon has been appointed to replace the Isle of Man's breast cancer specialist, a controversial move which sparked fierce debate on the island.
The woman, an oncoplastic breast and general surgeon who has not been named, will take up the post in the New Year, Health Minister David Anderson said.
It is the first part of a three-phase plan to change breast care services.
The Department of Health decision not to retain a locum breast cancer surgeon led to protests and a Tynwald debate.
Campaigners feared it would have a negative impact on the quality of breast cancer care on the island, but the Royal College of Surgeons supported the move.
The department said the new consultant's name could not be released until all the paperwork had been completed.
Mr Anderson said: "I really am delighted that we've been able to offer the job to such a proficient and highly skilled surgeon.
"The new consultant's CV and past experience is highly impressive and I believe they will bring a great deal to the post, to the team at Noble's Hospital and to the people of the Isle of Man.
"First and foremost this move has always been about developing and enhancing our on-island breast care service, which I'm glad to say we will now be able to proceed with.
"We'll have a first class service and a team of skilled professionals of which the island can rightly be proud."
Jan Brooks, president of Breakthrough Breast Cancer Isle of Man, trustee of Breakthrough Breast Cancer UK and a director of the Isle of Man Council of Cancer Charities, said she was delighted at the appointment.
She said: "I'm sure that breast cancer patients will feel reassured that the department has been successful in securing such an experienced surgeon, who has specialised in all the newest techniques in breast cancer surgery and worked in one of the foremost breast cancer centres in the Britain."