Everton football fan takes shirts to Africa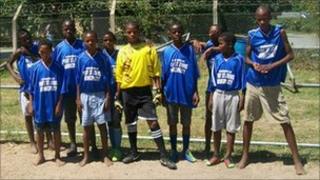 A football fan from the Isle of Man has created an Everton fan base in a remote part of South Africa.
Steve Allen, from Onchan, has taken hundreds of donated shirts to a football team in Port St Johns.
The strips were given to Mr Allen by fellow members of the Isle of Man Everton Supporters Club.
Mr Allen said: "I was backpacking through South Africa 10 years ago and I got to know all the local lads and started teaching them football.
"I started teaching them all about Everton, which is my twin passion with travel, so eventually I started to bring tops over for them.'
Over the last 10 years Mr Allen has taken almost 300 Everton shirts to the area with the aim of creating a "blue zone".
"It's a very poor area so any clothing helps. To see them all in Everton shirts makes me feel very proud."
Mr Allen hopes to take more shirts to South Africa this Christmas.