BBC Isle of Man election round-up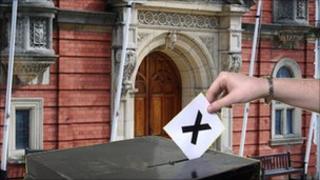 The Isle of Man's general election 2011 has brought several changes to the line-up for the next political term in the House of Keys.
Click here to see the results from each constituency
Three ministers have been ousted from office. Anne Craine from the treasury, Martyn Quayle from social care and Adrian Earnshaw from home affairs all lost their seats in Ramsey, Middle and Onchan respectively.
The status quo was maintained in the majority of the constituencies including Malew and Santon, Ayre, Glenfaba, Peel, Douglas West, Douglas North and Garff.
Bill Malarkey, former vice chairman of the Liberal Vannin Party, lost his seat in Douglas South and Quintin Gill in the constituency of Rushen.
Three Liberal Vannin party candidates were successful in the polls. Kate Beecroft won a seat in Douglas South and Zac Hall was elected in Onchan alongside established MHK and party leader, Peter Karran.
The result increases the party's presence in the House of Keys from about 4% to 12.5%. The remaining seven Liberal Vannin candidates failed to secure seats.
All other MHKs sit as independents.
There were inevitable changes in both Michael and Castletown with the retirement of David Cannan and Tony Brown. Richard Ronan was elected for Castletown and Alfred Cannan for Michael.
AYRE
There were no changes in this constituency with independent candidate and former education minister Eddie Teare winning a clear victory of 1,060 votes.
The contest in Ayre came from Andrew Newington-Bridges, who won 429 votes, and Pat Ayres, who won 134.
CASTLETOWN
After the retirement of former chief minister Tony Brown, Castletown was one of only two constituencies, along with Michael, guaranteed of new political representation. The seat in this southern town was won by Richard Ronan, who won 520 votes. He was followed by Jason Moorhouse (479 votes), Mahendra Patel (280 votes), Colin Leather (108 votes), Carol Quine (43 votes) and David Pownall (33 votes).
DOUGLAS EAST
Both Brenda Cannell and Chris Robertshaw will continue in their role as MHKs for this central area of the Isle of Man. Chris Robertshaw secured 915 votes, Brenda Cannell 757, Paul Moulton 490, Geraldine O'Neill 441, Richard Kissack 238 and John Karran 123.
DOUGLAS NORTH
John Houghton (1,376 votes) and Bill Henderson (1,257 votes) have both been returned in this two-seat constituency. The other contenders were Theo Fleurbaay and Peter Hill who received 869 and 722 votes respectively.
DOUGLAS SOUTH
This two-seat constituency was won by David Cretney who secured 1,749 votes and Kate Beecroft with 1,191 votes. Bill Malarkey, (1,019 votes) who has been MHK for this area since 2006, has not been returned.
DOUGLAS WEST
In this two-seat constituency, Geoff Corkish (1,017 votes) and John Shimmin (1,316) were both returned. Chris Thomas from the Liberal Vannin party came in third with 913 votes while the final challenger, John Skinner, secured 732 votes. The total voter turn-out in Douglas West was less than 56%.
GARFF
A land-slide victory left Speaker of the House of Keys, Steve Rodan in office. He won 1,725 votes while the only other contender for this area, Liberal Vannin candidate Nigel Dobson, won 136.
After the result were announced Mr Rodan said: "This is the fifth occasion I have had the privilege of being returned to the House of Keys by the people of Garff. It is a very proud moment although I am disappointed that the voter turn-out has dropped from 64% to 54%."
GLENFABA
There was a close contest in this constituency but ultimately no changes. Former health minister David Anderson won 649 votes while his challengers, Geoffrey Boot and Matthew Wadsworth, won 557 and 189 respectively.
After the results Mr Anderson, who has held this seat since 2001, said he was relieved to have been chosen to represent Glenfaba for the next five years.
MALEW & SANTON
Graham Cregeen won a clear victory in this predominantly rural area of the Isle of Man, securing a total of 877 votes. Mr Cregeen has held this seat since 2006. The election contest came from John Hanson, who received 87 votes, and Gareth Kelly who received 262. The total voter turn out in Malew & Santon was 1,226.
MICHAEL
After the retirement of long-standing MHK David Cannan, who has served as MHK in this area since 1982, Michael was one of two constituencies, along with Castletown, guaranteed new political representation.
The seat in this western location was won by Mr Cannan's son Alfred, who stood as an independent candidate. He received 1,014 votes while his opposition Paul Heavey won 244 and David Talbot, 325.
After the results were announced Alfred Cannan said he was thrilled to have had such a strong vote of confidence from the people.
MIDDLE
One of the few changes in the island's political line-up has taken place in this constituency. Former social care minister Martyn Quayle, who has held the seat since 2001, lost out to Howard Quayle who won with a total of 922 votes. Paul Craine came second with 560, Martyn Quayle was third in the poll with 466 and lastly, Liberal Vannin candidate Juan Cottier with 250 votes.
ONCHAN
Former minister Adrian Earnshaw (1,543 votes), who has been an MHK in this three-seat constituency since 2001, has been replaced by Liberal Vannin member Zac Hall, who secured 1,812 votes. Liberal Vannin party leader Peter Karran topped the Onchan poll with 2,704 votes while former MHK David Quirk retained his seat after securing 1,594 votes. Brian Stowell gained 1,093 votes.
PEEL
Tim Crookall was returned for this western constituency for a second term. He secured 646 of the votes with Leslie Hanson close on his heels with 615. The remaining three candidates, Rodger Gimbert, Raymond Harmer and Arran Kaighin, gained 252, 522 and 265 votes respectively. The total voter turn-out in Peel was 2,315.
RAMSEY
Former Treasury Minister Anne Craine (1,817 votes) has lost her seat in this northern constituency, but former Economic Development Minister Allan Bell (1,988 votes) will continue to represent the area after 27 years in Manx politics. Leonard Singer has also won a seat with 1,911 votes. Linda Bowers-Kasch from the Liberal Vannin party received 427 votes, Lawrie Hooper with 310 votes and John McDonough 243 votes.
RUSHEN
Quintin Gill (1,722 votes), who has been an MHK since 2001, lost his seat in Rushen. He has been replaced by Laurence Skelly who received 2,021 votes. Phil Gawne (1,942 votes) was re-elected, as was Juan Watterson, (3,080 votes) who gained the majority of support.
All new political members will be sworn in to the House of Keys on 4 October. The Isle of Man's new chief minister will be elected by Tynwald on 11 October.