Allan Bell could stand for chief minister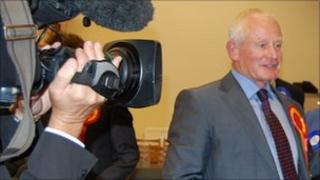 The Isle of Man's longest serving politician could stand as the island's next chief minister.
Allan Bell, who has been in office for 27 years, said he wanted to look at Tynwald's new political line-up before considering his next move.
Mr Bell came out top in a recent island-wide survey on who should take on the role.
But he said election night was too early for discussions on the role of chief minister.
"Clearly there will be some very big changes," he said. "Hopefully those changes will help to heal the island. We are facing challenging times but those challenges are not insurmountable."
Island poll
His position was strengthened with the defeat of former treasury minister Anne Craine, who had been considered as a contender.
The island-wide survey was conducted by Prof Hugh Davidson, visiting professor of marketing at Cranfield Business School, with the aim of giving Manx people a say in island politics.
The Manx People Power poll interviewed more than 1,000 people, 15% of whom voted for Mr Bell.
Chief Minister Tony Brown stepped down from Tynwald at the General Election.
Nominations for the post open on Tuesday.
The Isle of Man's new chief minister will be elected by Tynwald on 11 October.