Glen Rushen bikers thanked for help in rescue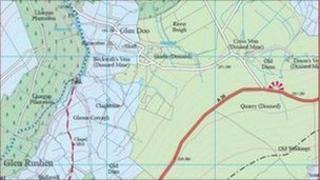 Firefighters on the Isle of Man hitched a lift with a group of off-road bikers to rescue a woman who was badly injured in a fall near a disused quarry.
The woman was walking near Glen Rushen Mines on Sunday when she fell up to 5m (16ft) into a river and suffered suspected spinal injuries.
The Isle of Man Fire and Rescue Service thanked the bikers, saying they were 'instrumental' in the rescue.
The woman was eventually transported to an ambulance by an all-terrain vehicle.
Assistant Divisional Officer for the Fire and Rescue Service, John Murtagh, said: "The bikers were instrumental in this rescue.
"They went out of their way to raise the alarm and then waited to help our staff locate and help the casualty.
"Due to the geography of the area, we could only get out vehicles to within a quarter of a mile of the incident at the foot of the Pipeline, so the riders even gave the fire and ambulance crews a lift to the scene, on the back of their bikes."
Mr Murtagh also thanked the Laxey Mines Research Group and a local farmer for their assistance.
"The research group help rescue the lady from the river and the farmer guided the Pinzguaer 6x6 vehicle back to the road."
"This was a real team and community effort and the Isle of Man Fire and Rescue Service would like to thank everyone for their help," he added.