Thousands of diseased trees felled on Isle of Man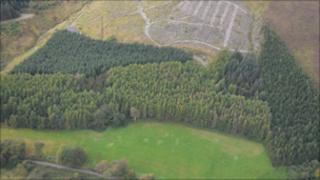 Work has begun to fell thousands of larch trees in two plantations in the Isle of Man after a pathogen which causes a deadly disease was discovered.
Phytophthora ramorum was found by the Forestry Commission last month when it carried out routine aerial surveys on the plantations.
More than 9,000 cubic metres (317,832 cubic feet) of trees will now be felled in the Colden and Ballaugh areas.
It means the island will lose about 25% of its larch tree population.
Phytophthora ramorum, a fungus-like pathogen, causes the ramorum disease which is is particularly serious in Japanese larch trees and rhododendrons.
'Extensive damage'
Signs of the disease are wilting blackening foliage, discoloured tops and resin bleeding.
Walkers and cyclists will have no access to the Colden plantation and limited access to Ballaugh until the work is completed in April 2012.
Jason Bolt, Northern Area Forester for the Department of Environment, Food and Agriculture, said the precautions had been put in place to stop the disease spreading.
He said: "We will be felling around 9,000 tonnes of timber in the two plantations.
"Commercially, from our point of view, the larch is a concern. It makes up around 25% of the island's growing stock."
Phytophthora ramorum has also caused extensive damage to trees and other plants in parts of the UK, Europe and the USA.
Mr Bolt added: "The Phytophthora will affect other trees in the landscape, broad leaf trees, shrubs, so it has the potential of being a very nasty disease.
"This is big for us - usually we have an annual cut of around 6,000 tonnes of timber, so it is a sizeable amount to lose."
Forestry Commission officers will give a public presentation at the Glen Helen Hotel on 10 November to answer any questions.