'Improvements needed' at Isle of Man Prison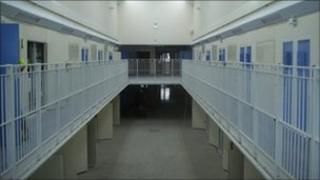 Significant improvements need to be made at Isle of Man Prison, the Chief Inspector of Prisons has said.
A report into the new jail at Jurby found the new building was excellent and that very good staff-prisoner relationships had continued.
But it found little was done to address prisoners' reoffending, there were too few activities for inmates and many prisoners circumvented the smoking ban.
The government said improvements had already been made.
Inspectors visited the new prison in March, at which point it housed 118 prisoners including men and women.
'Absent friends'
Chief Inspector Nick Hardwick said more needed to be done in the prison and on the island to stop prisoners reoffending.
"Prisoners returning to the prison, as they did all too frequently, were greeted almost as absent friends," he said.
Mr Hardwick said 20% of inmates had said they developed a drug problem while in the jail.
Other criticisms included the case of a Polish prisoner who did not speak English and had not understood his sentence or been informed how to get his clothes washed.
A deaf prisoner had also missed a meal because he did not know it had been called.
Mark Kelly, chief executive of the Department of Home Affairs, said: 'Whilst I acknowledge there is still work to be done, I am pleased that the Chief Inspector of Prisons has recognised the progress achieved in the Isle of Man in recent years.
"Given the challenges associated with running a prison with a mixed population of adult males and females and young offenders, it is a credit to the governor and her officers that they have maintained the excellent staff-prisoner relationships.
"There is obviously scope for improvement and we will take on board the inspector's criticism."