Basking shark sightings 'significantly down' for 2011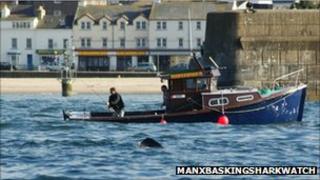 Basking shark sightings in Manx waters are significantly down on previous years according to Jackie Hall of the Manx Basking Shark Watch.
Mrs Hall, a leading scientist in the area, says the sightings are the lowest recorded since the MBSW was established in 2005.
So far this year, 293 sightings have been recorded, compared with 410 in 2010 and 877 in 2009.
Basking sharks are the second largest fish in the world and feed on plankton.
Mrs Hall said: "The inshore waters off the south west of the island normally have an excellent supply of plankton, it's one of the main reasons we are normally lucky enough to see lots of sharks from the shore.
Unusually low
"This year our tests showed an unusually low level of plankton and obviously the baskers noticed and moved away to better feeding grounds, the numbers are significantly down on previous years.
"The same thing happened in 2001, we hardly had any sightings, I think it is also down to natural variability in the seas current systems, it varies", she added.
There had been excitement after the first basking shark arrived in Manx waters earlier than expected in March, as sightings do not usually begin until May.
Mrs Hall continued: "We had two groups of more than 20 sharks at the end of May and beginning of June, but most of the sightings were of individuals or small groups."
The Manx Basking Shark Watch did however have further success with its electronic tagging programme, during the summer months.
Three basking sharks were tagged taking the total to 18 since 2007, with the aim to build up data of the sharks movements.
The satellite tags cost £3,500 each and are attached to the shark's dorsal fin.
Eleven more basking shark "identity passports" for individual sharks, including DNA fingerprints, were also collected, bringing the number collected since 2009 to 55.