Strong winds force Isle of Man ferry cancellations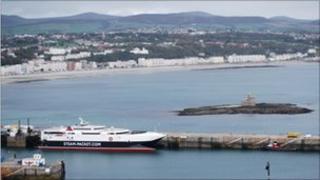 Strong winds forecast for the Irish Sea have forced Thursday's fast-craft sailings between the Isle of Man and Liverpool to be cancelled.
The Steam Packet company said the 15:00 BST Manannan sailing from Douglas to Liverpool has been cancelled, as has the return voyage at 19:00 BST.
Sailings between Douglas and Heysham on the Ben-my-Chree will go but may suffer disruption because of the weather.
Passengers have been advised to contact the ferry reservation team.