Peter Karran: Liberal Vannin's living standards pledge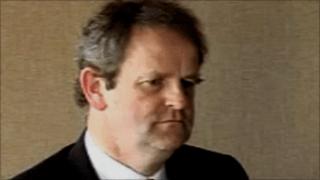 Beaten chief minister candidate Peter Karran has pledged his Liberal Vannin party's determination to halt any decline in Manx living standards.
Liberal Vannin leader Mr Karran, is part of the Council of Ministers for the first time since the party was founded in 2006.
Mr Karran said the party wanted to play its part in Chief Minister Alan Bell's government of national unity.
"It used to be a case of people just passing power to their mates," he said.
Mr Karran, who was previously in government as a Labour Party member more than 10 years ago, said: "Mr Bell wants a fresh approach to government because of the unprecedented situation in the world at the moment."
He compared his party's role to that of the Lib Dems relationship to the Tories in the UK coalition.
Mr Karran, who is minister responsible for education and children, stated: "What people forget is that 25 years ago the average wage on the island was 45% of that in the UK.
"That's all changed, what we need is a government that can make sure we are a prosperous and caring society."