Manx residents urged to offer TT tourist accommodation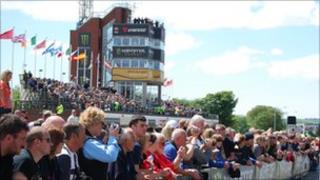 Isle of Man homeowners are being asked to open their homes to TT and Manx Grand Prix tourists in 2012.
In 2011, more than 700 homeowners on the island let rooms to TT tourists, with 2,858 beds being taken up during June's races.
Households can register for the Homestay scheme following an inspection from a registration officer.
Much of the registered accommodation is already full for 2012, Isle of Man Tourism said.
'Goodwill and support'
Chief executive for economic development, Colin Kniveton, said: "The success of the TT has been built on the goodwill and support of residents of the Isle of Man.
"I would like to thank everyone who has opened their homes previously, for their help and co-operation and it is reassuring that we can count on our residents to make TT 2012 as successful as in previous years.
"Whilst the department has made great progress in increasing Homestay availability, we still wish to see more people open up their homes in order to provide accommodation for visitors."
Homestay can be offered during TT for any number of nights between 28 May and 10 June and for Manx Grand Prix between 18 August and 2 September 2012.