'No quick fix' for reducing Manx hospital waiting lists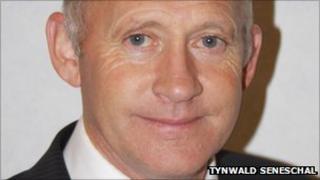 There are no "quick fix" solutions for reducing Isle of Man hospital waiting lists, the health minister has said.
In the October sitting of Tynwald, David Anderson expressed his concern that some patients were having to wait years for treatment.
Although the average hospital waiting time is 11 weeks, Mr Anderson said, some people were waiting for more than two years for a specialist appointment.
He added that cases requiring urgent treatment were seen far more quickly.
"In addressing our unacceptable waiting times, I think that we have to accept that in many cases we have simply too much demand placed on our limited resources and that there is no easy answer," Mr Anderson said.
"I do not see that we can, or should attempt to do, what the UK did several years ago which was to pump in huge and unsustainable funds in an attempt to buy themselves out of the problem".
Mr Anderson has promised a review to determine which departments are experiencing the most pressure and whether this demand is "appropriate".
It is thought the utilisation of emergency services in non-urgent situations and people missing surgery appointments both have an impact on waiting lists.
Other measures being looked at include a more effective use of current medical resources and the promotion of self-care health campaigns, according to Mr Anderson.