Chinese lanterns mistaken for flares on Isle of Man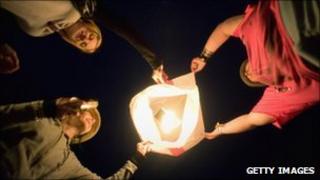 Manx residents have been asked to inform the coastguard of plans to use Chinese lanterns, after several were mistaken for distress signals.
The paper lanterns, which can float miles into the sky, have become increasingly popular at weddings and celebrations on the island.
Coastguard teams have been called out to several false alarms in recent months, the Manx government said.
MLC David Callister said incidents were "taking up valuable resources".
Mr Callister said: "These lanterns can be confused with distress flares used to signal emergencies at sea.
"This in the past has led to Coastguard teams being called out to investigate, which can be very time consuming and costly."
The Isle of Man Fire and Rescue Service are also concerned over the dangers they cause.
Sub Officer Peter Killey said: "No-one wants to be a killjoy but the Isle of Man Fire and Rescue Service is very concerned that before long we are going to have a serious incident caused by these lanterns.
"Whether this is a property fire, a fire in the countryside, personal injury or injury to wildlife and livestock - the more these lanterns are used the more likely it is that an incident will occur," Mr Killey added.
People planning to use the lanterns are urged to contact the Marine Operations Centre, stating how many lanterns are to be released and where from.