Mark Cavendish: Cyclist announces he is to become a father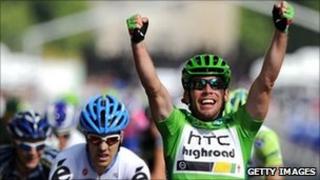 Isle of Man cycling star Mark Cavendish is to become a father.
He announced the news on Twitter that his partner Peta Todd was expecting and said it was "beyond doubt, my proudest moment of this year".
The 26-year-old, from Douglas, won the world road race championship last month. He was the first British male champion for 46 years.
In July, he won the final stage of the Tour de France, becoming Britain's first winner of the green jersey.
On her Twitter page, Ms Todd said: "Can now confirm that whether or not the world is ready for it... there is a baby @MarkCavendish on the way. A very happy family this end."