Manx landmark Tower of Refuge made pink for charity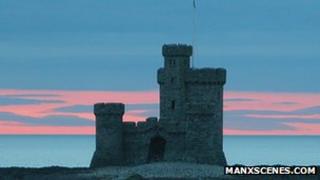 A landmark in the Isle of Man will be lit in pink to highlight Breast Cancer Awareness Month.
The Tower of Refuge in Douglas Bay will be illuminated for the remainder of October, to mark Wear it Pink Day.
The annual fundraising event raises money for breast cancer research to help patients in the British Isles.
The tower was completed in 1872 after a being commissioned Sir William Hillary, founder of the RNLI, to prevent shipwrecks.