Isle of Man minister keeps 'open mind' on Sarah's Law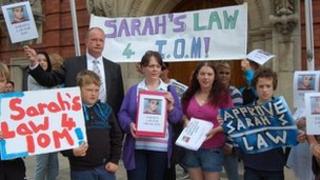 The island's home affairs minister is keeping an "open mind" about the possible introduction of Sarah's Law.
In the House of Keys, Juan Watterson said he will reconvene a working group looking into the issue.
The Child Sex Offender Disclosure Scheme in England allows parents to ask police if someone who has contact with their child is a sex offender.
Island campaigners submitted a petition in June urging the government to introduce the scheme in the island.
Mr Watterson added: "I approach the subject with an open mind and await the deliberations of the working group."
The group, which is made up of campaigners, the Island Offender Management Service, police and Victim Support, is expected to report back to the government by the end of 2011.