Isle of Man horse tram passenger numbers up for 2011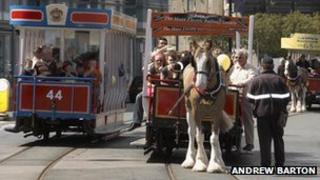 Passenger numbers for the Isle of Man horse tram service have increased for a third consecutive year, according to Douglas Borough Council.
Some 56,536 passengers were carried along Douglas promenade during the 2011 season, 5.4% more than in 2010.
The Isle of Man service ran for an extra week in September to transport Commonwealth Youth Games athletes.
Leisure services committee chairman Stephen Pitts said the year-on-year increase was "most encouraging".
'Worldwide interest'
Mr Pitts said: "This year-on-year increase, albeit modest, is most encouraging, especially in light of the economic downturn.
"Inevitably, this summer's poor weather will have affected passenger numbers to some extent.
"However, we can take heart from the fact that the horse trams clearly continue to attract worldwide interest," added Mr Pitts.
In 2011 the horse trams, which are celebrating their 135th anniversary this year, featured in television programmes in Germany, Japan and the Netherlands as well as staring in Michael Portillo's BBC show Great British Railway Journeys.
Mr Pitts also confirmed a special Christmas service will run from 17-20 December.