Isle of Man 'voices from Dunkirk'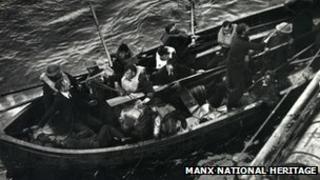 As part of a series of events to commemorate the 90th anniversary of the Royal British Legion, the Manx Museum will look back at the island's role in the evacuation of Dunkirk in WWII.
A talk by the museum's curator Matthew Richardson on Thursday 10 November, aims to give a flavour of what it was like to be part of the evacuation from the perspective of those on board the Steam Packet ships.
The Isle of Man Steam Packet Company, a passenger shipping company which began operations in 1830, had ten of its ships commandeered for active duty during WWII and eight of those took part in Dunkirk.
The Manx ships became part of a fleet of 700 private boats which later became known as the 'little ships' of Dunkirk.
In 1940 as part of Operation Dynamo, the 'little ships' rescued more than 338,000 British and French soldiers, who were trapped on the beaches at Dunkirk.
According to Mr Richardson this event was perhaps the Isle of Man's greatest single contribution to the Allies' victory.
He said: "Over the years vivid and fascinating stories have been unveiled - including that of the chief engineer from the King Orry, one of the Steam Packet vessels at Dunkirk".
Bomb exploded
Laurence Quine was manning a machine gun on the King Orry when a bomb exploded alongside him throwing him into the water. He was a non-swimmer but managed to survive by climbing on to a life raft that was floating near by.
Manxman, Lieutenant Skinny Hayes was also aboard the King Orry when she went down in the explosion, and accounts say the vessel settled in the water so slowly that he was able to step off the deck and on to a life raft without even losing his hat.
The crew of the Mona's Queen was not so fortunate - it struck a mine which blew the ship apart causing it to sink in less than two minutes. The vessel went down so fast that all but one of the engine room staff were lost.
"The truth is that only the ships of the merchant navy had the capacity to rescue the British army trapped at Dunkirk, and one fleet perhaps more than any other played a crucial part in this - the Isle of Man Steam Packet Company," Mr Richardson said.
A full list of events to commemorate the 90th anniversary of the Royal British Legion can be seen on the Manx National Heritage website.