Ramsey's refurbished hospital officially opens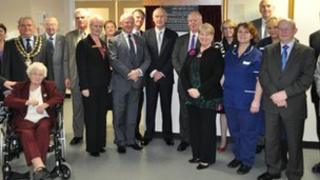 The £1.1m refurbishment of part of Ramsey and District Cottage Hospital has been officially completed.
A donation from the Cyril John Martin Trust has provided a 31-bed ward, a library and new staff training facilities.
Hospital manager Janet Grib paid tribute to the generosity of Cyril and Eileen Martin.
She said: "We are all extremely grateful for these wonderful new facilities."
'Lasting legacy'
Robert Jelski, trustee of the trust and a friend of the late couple, said: "Mr and Mrs Martin spent the latter parts of their lives living in Ramsey would be very proud today that their legacy has ensured the facilities at the cottage hospital have been upgraded to guarantee its long-term future."
The gift follows a £1.4m donation in 2009 by the trust which funded a CT Scanner at Noble's Hospital.
David Anderson MHK, Minister for Health, said: "The Martins' generous bequest leaves a lasting legacy for the people of the Isle of Man with medical and learning facilities benefiting thousands of people in the years to come."
Mr Martin was a civil servant in Winston Churchill's War Cabinet Office in London but was employed for most of his career as an economist by the World Bank.
Mr and Mrs Martin moved to Isle of Man in 1977, where they lived until their deaths in 2007 and 2005 respectively.