Isle of Man Tourism Awards winners announced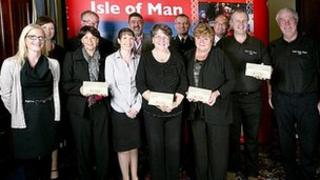 The Walking Festival, the village of Laxey and Lower Ballacottier campsite have been named among the winners at the 2011 Isle of Man Tourism Awards.
Andreas' Croit-ny-Bane Farmhouse and IOM Trike Tours also won awards at the sixth annual ceremony on Wednesday.
Deputy Chief Constable Gary Roberts said that, as a judge, he had seen "great examples of people who offer something special to visitors".
"All of those nominated deserve great praise," he said.
The Tourism Awards, given by Department of Economic Development, recognise outstanding customer service and a significant commitment to quality in the Isle of Man tourism industry.
The winners were chosen from public nominations by Mr Roberts, 3FM's Tony Palmer and Peter Whitaker from leisure company Heron and Brearley.
Speaking at the awards ceremony, Geoff Corkish MHK said the awards celebrated "the very best of the Isle of Man's tourism industry".
"All of our finalists are winners and I congratulate their enthusiasm and the confidence they have in the future of tourism," he said.
Other winners at the awards included The Chesterhouse Hotel in Douglas, Isle of Man Cycle Hire, Maughold's Beach Cottage and Harbour Lights Cafe and Restaurant, which has four outlets across the island.