Roads closed and ferries cancelled due to high winds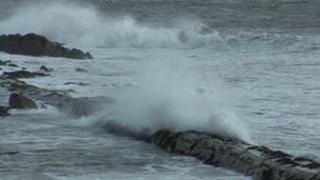 High winds on the island have caused some ferry cancellations, road closures and air travel disruption.
Sailings to and from the island have been cancelled and the evening's trip was subject to disruption.
The Isle of Man met office said winds could reach up to 75 miles per hour and warned "some structural damage is likely".
Manx police said the Mountain Road, between Creg Na Baa and Ramsey Hairpin, was closed until 18:00 GMT.
King Edward Road from its junction with Summerhill to Port Jack was also closed during the earlier high tide but had been expected to open early afternoon.
The weather has also caused several delays at Ronaldsway Airport.
The 11:40 GMT flight to Glasgow with Flybe has been cancelled, as has the 11:05 flight to Belfast with Manx2.
'Consumer crisis'
A spokesman from Manx2 said the company hoped to run flights as normal but the storms might cause further delays or cancellations.
Passengers due to travel are advised to contact their airline for further information.
Disruption to the ferries has caused a "consumer crisis", according to Bill Henderson, a member of the House of Keys.
Mr Henderson is calling on the Steam Packet Company, which operates the crossings, to supply an extra vessel to help bring in supplies to the island.
The company's chief executive, Mark Woodward, said: "We have looked at this possibility.
"However, given the current weather patterns, it is difficult to see how chartering another vessel, even if one was available, would help the situation.
"Any vessels that are suitable in terms of size for Douglas harbour are typically older freighters with limited manoeuvrability themselves.
"However, of much more relevance is that they are simply not readily available for short-term charter."