'Regret' over proposed Manx newspaper printing move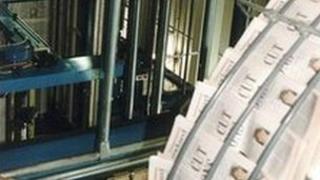 The chief minister has expressed regret over plans to move newspaper printing operations from the Isle of Man.
In the December sitting of Tynwald, Allan Bell said the prospect of job losses is always a matter for concern.
Printing of Isle of Man newspapers three weekly papers will be done at Johnston Press' site in Sheffield, from March if plans are approved.
The move would mean the loss of seven full-time jobs and numerous casual positions in the Isle of Man.
"There is actually nothing new in Manx newspapers being printed off-island," said Mr Bell.
"What is important for the Isle of Man, I would suggest, is that we have a dedicated national press that is editorially independent, professional and adequately resourced to promote informed public debate.
"In this respect I do note the public assurance from Isle of Man newspapers that all their editorial staff- reporters, photographers and sub-editors- will remain in the Isle of Man."