Snow causes Isle of Man Mountain Road closure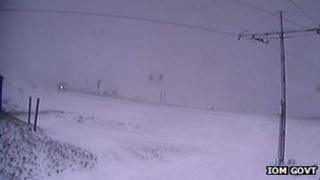 Snow has caused the closure of the Mountain Road in the Isle of Man for the second time in one week.
The decision to close the area to traffic was taken about 10:15 (GMT) on 16 December.
The move followed a police report asking motorists to drive carefully after "a covering of snow" in the area.
Police also said the Slieu Lewaigue on Ramsey Coast Road is now considered "treacherous" due to snow fall.