Isle of Man ferry moves two miles of freight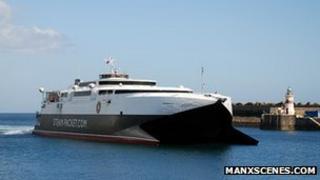 Two miles of freight was brought to the island from the UK in one weekend, according to the Isle of Man Steam Packet company.
Ferry operators said while the main freight vessel was in dry dock between 16 and 18 December, the stand-in fast craft shifted 250 trailers.
Repairs were made to the bow thrust unit of the Ben-my-Chree.
Chief Executive Mark Woodward said the fast craft, Manannan, coped admirably by carrying freight and passengers.
He added: "The Ben-my-Chree has been the most reliable vessel ever employed by the company.
"All vessels are disrupted occasionally by extreme weather conditions such as we have recently experienced."
High winds during the early part of December caused a number of sailing cancellations.
The Steam Packet company said the Ben-my-Chree is now back in normal service in the run up to Christmas.