Isle of Man sympathy letter to Philippines after flood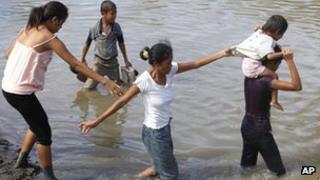 The Isle of Man's chief minister has written a letter to the people of the Philippines after the devastating flooding brought by Typhoon Washi.
Allan Bell has written to Enrique A. Manalo, the Philippine Ambassador to the UK, to offer condolences.
It is thought final death toll for the disaster is likely to pass 1,000, with bodies still being recovered at sea.
Some 338,000 people have been affected and more than 10,000 homes damaged.
Philippines President Benigno Aquino has declared a national calamity and disaster relief agencies are currently attempting to provide food, water and medicine to the survivors.
Mr Bell wrote: "The Isle of Man is home to a number of people from the Philippines, including some from the Mindanao region which I understand has been particularly affected by this tragedy.
"Our thoughts and prayers are with you at this most difficult time."