Bishop of Sodor and Man's 'nothingness' Christmas topic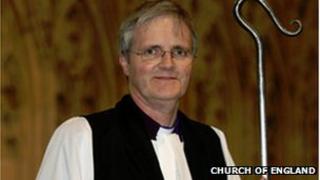 The Bishop of Sodor and Man has used his Christmas message to draw attention to those who have "nothing" and have "lost their sense of self-worth".
The Right Reverend Robert Paterson said "as long as we've got things, we're OK but nothing leaves us a bit at a loss".
The bishop's message, published on the diocese website, will be reiterated when he leads the service at St German's Cathedral in Peel later.
Homeless charity Kemmyrk said the message had "hit the spot".
The Rt Rev Paterson said "the Island has been hit by the banking crisis and all that has been washed up in its wake", which had left behind "a dreadful kind of nothingness".
"There's no easy solution to that crisis, of course, because we all know that when a society over-stretches its resources, something has to be done; generally the weakest suffer first and sometimes the most," he said.
"Profligate speculators in the banks, property interests, and so on may be chiefly to blame, but none of us gets away innocent.
"We were all content to see house prices climb, investment income increase and standards of living soar - until, that is, it all came to a sticky end.
"Then, of course, we looked for someone else to blame. Now, as individuals and governments, we find we're not good at nothing."
Kemmyrk's chairman, the Reverend Cyril Rogers, said the bishop had "hit the spot, because for me, this has been the hardest year".
"Small charities like Kemmyrk are as hard hit by the financial situation as the people they are trying to help," he said.
"I have really been overworked this year, just to keep things going.
"[However] we're doing good work and as long as we can keep things going, we'll see things through."