Brave swimmers set for Isle of Man dips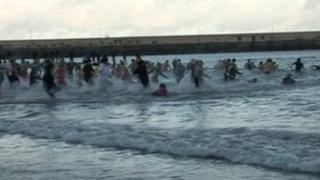 More than 1,000 people have braved the waters of the Isle of Man to take part in the New Year's Dips.
The charity swims took place around the island on Sunday, the first of which began in Peel and Douglas at midday.
Dips followed throughout the afternoon on Chapel Beach, Port St Mary, Gansey, Port Erin, Ramsey and Laxey.
Those taking part are raising money for charities including Peel Lifeboat, Autism Initiatives and the Children's Centre in Peel.
The Peel dip began on 1 January 1983, and the four dips in Chapel Beach, Port St Mary, Gansey and Port Erin are now in their 11th year.
Organiser of the four dips, Lenny Conroy, said: "The original plan came about over some pints running up to Christmas where we felt if we were to make a splash it had to be a little different.
"So initially we went for three dips as at the beginning it was possible to nip between other organised swims, so two was already achievable!
"That was 10 years ago. Things have progressed and they have now upped the dips to four."
He added: "There was a year where another local charity was doing a swim nearby so we didn't want to contest them so we joined in!
"To be honest, it never gets any easier doing them but when you see you're not the only one doing it you take it a little better and with every year it's for a good cause."
Swimmers taking part in the annual swims often do so in fancy dress - this year's theme is penguins.
Last year's event raised £4,381 for local charity Craig Heartstrong Foundation.